Australia – 151/3 18.3/20 ov RR: 8.16
Pakistan – 150/6 20/20 ov RR: 7.50
Live Match Commentary
Smith's 80* deflates Pakistan; Australia grab seven-wicket win & 1-0 lead
Australia cruising despite losing openers early
Babar's patient 50, Iftikhar's fireworks help Pakistan post 150/6
That's all from us, ladies and gentlemen!16:38
The third and final T20I will be played between these two sides on Friday (November 8) in Perth. If Australia win, they take the series 2-0. If Pakistan win, they draw level with 1-1. Interesting scenario, so don't forget to tune in!

A masterful knock of 80* from Steve Smith leads Australia to a seven-wicket victory with nine balls remaining.

The hosts take a 1-0 lead in the series. #AUSvPAK SCORECARD http://bit.ly/AusvsPak2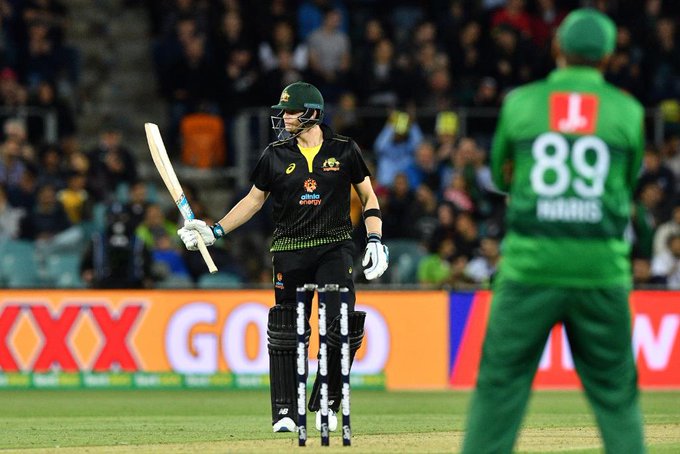 3,0814:20 PM – Nov 5, 2019Twitter Ads info and privacy254 people are talking about thisSteve Smith, Man of the Match for his 80* in the chase16:36
It was nice to be there till the end and see the boys home. I thought the bowlers set it up early – they bowled beautifully. It was probably a 170-kinda wicket I reckon at least. As a batter, it's always a good plan to get on the bowlers' nerves. You are always looking to find a way as a batter to do it to the best of your abilities. Fortunately, I was able to do that tonight.


How?!?#AUSvPAK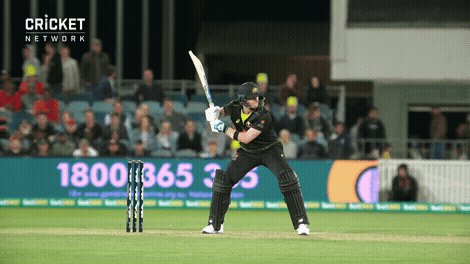 8624:15 PM – Nov 5, 2019Twitter Ads info and privacy196 people are talking about thisAaron Finch, Australia Captain16:32
Very pleasing. I thought we were pretty good all day. The way we kept taking wickets through the innings was really important, because we know how much damage Pakistan can do in the powerplay or at the end of the innings. So, to get wickets consistently was the key.

We have got guys like Steve (Smith), who does what he does best. I think our execution at the death could have been better. The shots that me and Davey (Warner) played (to get out) weren't great either.Babar Azam, Pakistan captain16:29
We are disappointed with our efforts. Smith's knock took the match away from us – he played a magnificent innings. It is very difficult (to come back) when you lose early wickets like that. We have to work on building the momentum. Credit to Iftikhar for the way he played today, it was a very good knock.Over 18.3: Australia 151/3 (Seven-wicket win for Finch and Co.)16:18
A wide ball from Amir, a single off the next ball, and then a misfield at backward point yielding the winning run. Australia win the match, go up 1-0 in the series. Pakistan would be mighty disappointed with the way they faltered in this game. They had their moments right through the contest, but the Australians trumped them by never losing focus, and punishing every error made by the opposition.


Game over!

Australia win by seven wickets #AUSvPAK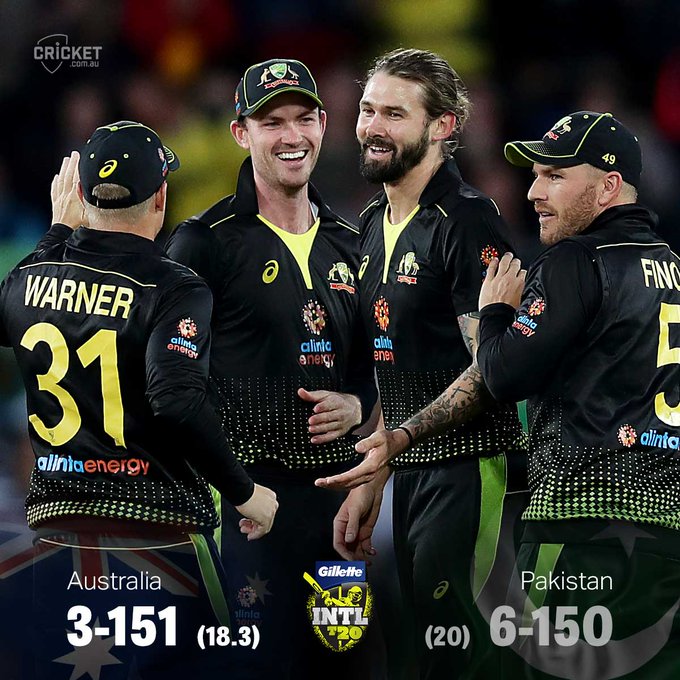 8444:16 PM – Nov 5, 2019Twitter Ads info and privacy160 people are talking about thisOver 18: Australia 148/316:15
Wahab Riaz brought back, but that doesn't change anything for Pakistan. Smith picks up two more boundaries in his over, taking his boundaries tally to 11 in this knock. Incredible batting, 12 runs off the over and it's only a matter of time now before the Aussies go over the line.Over 17: Australia 136/316:11
Amir into the attack to bowl his penultimate over. Smith has taken him apart, smashing him twice through mid off for FOURS, and repeating the feat with a boundary over point. 15 runs came off that over, and Australia firmly in control of this chase now.



Masterful! #AUSvPAK
4,2924:10 PM – Nov 5, 2019Twitter Ads info and privacy937 people are talking about thisOver 16: Australia 121/316:06
Shadab returns, bowls a good over. 4 runs coming off his six balls, and he ends with figures of 4-0-25-0. Wicketless, but his economical effort has allowed Pakistan to keep hoping for a comeback in this contest.

30 runs needed off 24 balls.Over 15: Australia 117/316:00
A boundary through midwicket for Smith, and he brings up his half-century with that shot. This has been the speciality of the Australian batting unit. When Warner and Finch fell early, Smith stepped up to carry this chase forward without many hiccups.

Eight runs off the over, Australia 34 runs away from a victory.



Steve Smith goes to fifty!

Australia look well set to go 1-0 up in the series.

Follow #AUSvPAK live http://bit.ly/AusvsPak2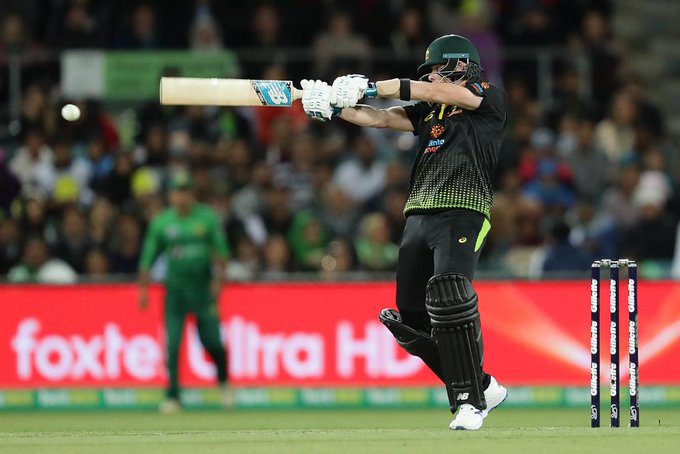 1,0733:59 PM – Nov 5, 2019Twitter Ads info and privacy69 people are talking about thisOver 14: Australia 109/315:57
Neat over from Shadab, giving away only three runs. 42 runs left to get from six overs (36 balls) – can Pakistan make a game out of this?WWICKET! B McDermott (lbw Imad) 21 – Australia 106/315:52
Hit on back leg trying to play a sweep shot, and there is a loud appeal. The umpire has raised his finger. McDermott has a quick check with Smith before gesturing for a Review. Replays suggest that the umpire was right. McDermott has to go.

Ashton Turner is the new man in at No. 5


McDermott's innings comes to an end, trapped in front by Imad.

With no ball tracking available, the decision stayed with the on-field umpire.#AUSvPAK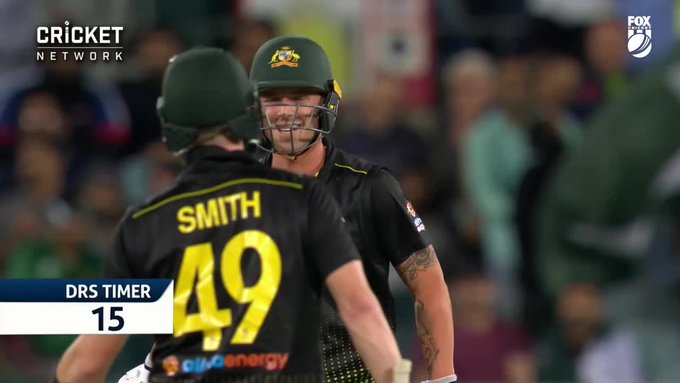 2553:54 PM – Nov 5, 2019Twitter Ads info and privacy34 people are talking about thisOver 12: Australia 101/215:49
100 comes up for Australia. Smith and McDermott making sure the runs keep coming. A couple of run out chances against McDermott as well, but he has done well to survive. 50 runs left in the chase.Ove 11: Australia 91/215:46
Imad Wasim brought on by Babar to bowl his third over. Decent one from the left-arm spinner, gives away five runs. Australia approaching the three-figure mark now.Over 10: Australia 86/215:42
Wahab Riaz into the attack, and he doesn't have a memorable start. Thanks to two no-balls and a wide, it ends up being a nine-ball over. 11 runs come off him, and the equation looks easy for Australia now. 65 to get from 60 balls.Over 9: Australia 75/215:35
Shadab continues, and once again, he gives away nine runs including a boundary. Smith has race to 34 off 23 balls. Australia now need 76 off the last 11 overs.Over 8: Australia 66/215:34
The runs keep coming off Smiths bat. Two boundaries for him in that over from Irfan, with the Pakistan bowlers unable to put a brake on the scoring.


Slashed away by Smith! #AUSvPAK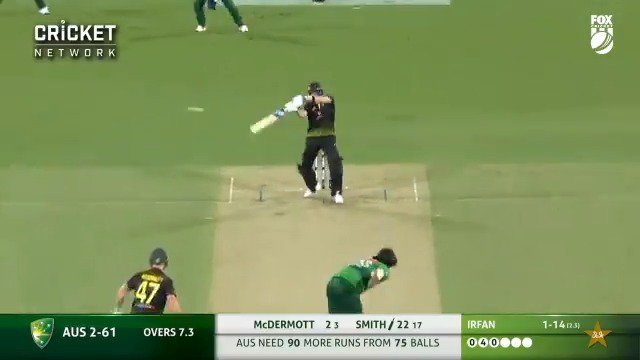 4703:31 PM – Nov 5, 2019Twitter Ads info and privacy66 people are talking about thisOver 7: Australia 57/215:28
New Batsman in: Ben McDermott.

Pakistan sniff an opportunity to make a comeback with the dangerous openers back in the hut. Shadab Khan brought on, and he gives away nine runs off his first over, including a boundary for Smith. 50 comes up for Australia, they need 94 runs from the remaining 13 overs.


Both Australia's openers are gone – is it game on? #AUSvPAK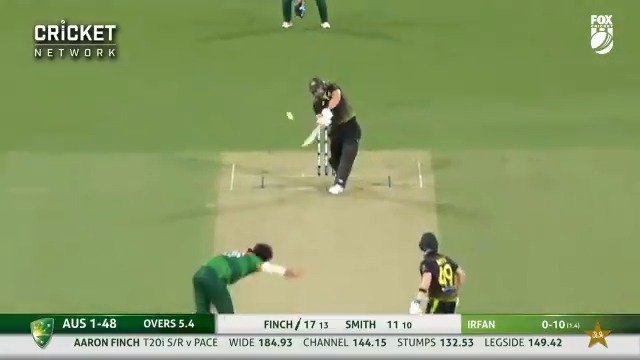 3123:25 PM – Nov 5, 2019Twitter Ads info and privacy39 people are talking about thisWWICKET! A Finch (c Babar b Irfan) 17 – Australia 48/215:24
Irfan comes 'round the wicket, and that's done the trick! Pitched it on good length, and Finch went on to cut it away with an aerial shot. He didn't middle it at all, and the ball pops over to Babar at mid off. Easy catch, and that ends the Aussie captain's knock.Over 5: Australia 47/115:19
Smith hits the first SIX of the chase, and Australia, despite Warner's wicket, have gotten off to a blistering start. 104 runs remaining in the chase, with 15 over still available. Required Run Rate is 6.93, so Pakistan would be hoping to pick up some wickets to get back in the contest.


Smith clears the rope for Australia's first six! #AUSvPAK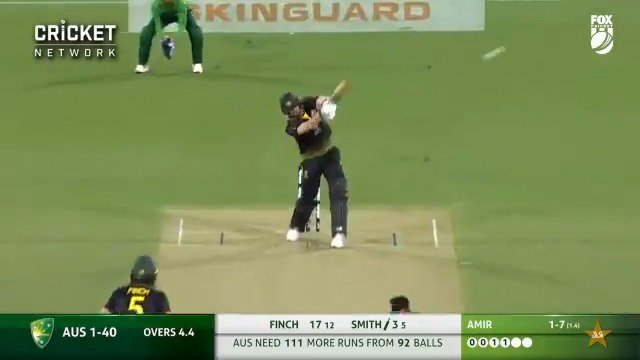 2283:20 PM – Nov 5, 2019Twitter Ads info and privacy37 people are talking about thisOver 4: Australia 38/115:17
Steve Smith is the new man in, joining Finch. Imad Wasim continues. He gets a decent over in, before conceding a boundary off the last delivery. The home team needs 113 runs from 16 overs.Show More